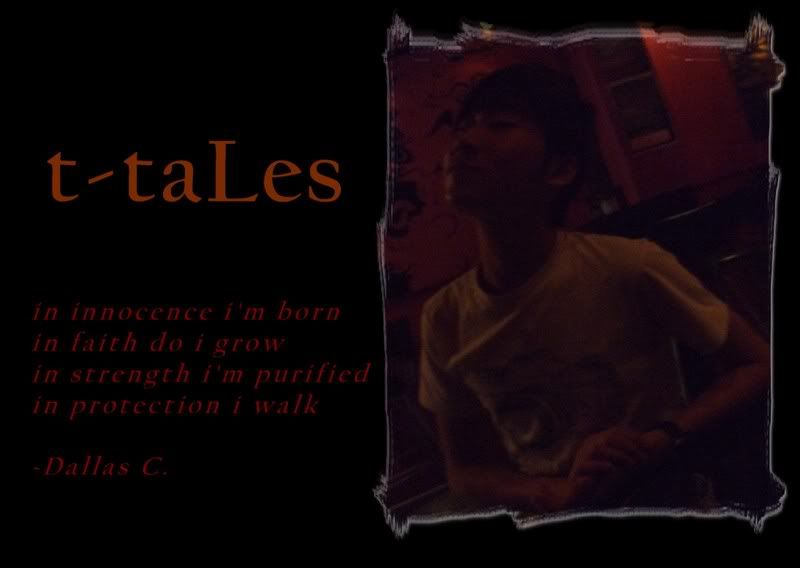 Life's ambivalence
when friends surpasses family, ya know there's nothing else to lose

it's a torture.
I have the capability to turn into a somewhat conniving, scheming, nifty guy that holds your life in his hands. But the cost? My soul.

That's a question when the devil gets the better of you. Then again, when i get to hell & when you alleviate to heaven i am punished for doing something i know is wrong whilst you are enlightened cause you were NOT enlightened before.

That is a paradox of nature many has yet to fathom. Religion is one thing, understanding how it works is another. That's a deeper spiritual study/understanding.

I use to think that if i were to prove my worth in society, your eyes can finally be peeled. When i slap you with my first million, you could shut it up & start realising your own mistakes.
But no, today karma showed me that i cannot take this nonsensical altercation anymore.

I would grow by myself, as per normal - just now without being your financial liability. & without each other acknowledging each presence in future. Our paths shall not cross & should never.
I have passed that stage. I feel really taxed & as my dreams wane everyday i breathe, i don't see an alternative..

Some are born with families honing the power of love every now & then.
Others are born the same way. Just that the power of love ebbs away as materialism eats into their heart.



It takes courage not to lose myself..




Is believing in you all the time a sign of weakness?




Can i seek comfort from the beautiful smile that hides the pain?

Labels: feelings validation, pensive thoughts
11:02 am on
Friday, March 27, 2009
Sweet Sundays
mind off others

Sundays are what I have been waiting for.
When the day comes, I get ready for the night.
Having fun, dancing & owning the dancefloor..

But. What's really happening in my life?
Well, it's so complicated I do not know where to start.. School's over. So is my allowance & every other notion that comes with it.

I feel that I have so much inside of me that I have been bottling up recently. & despite everyone saying how harmful it is, I know it is necessary to do so.
Soon, I would know that I have to stop moving so quickly & halt to take a deep breath.
Halt to uncap all these troubles & share it with my friends...
But now, let me savour every fun moment life can muster for me.

Very soon, I would need someone to talk about recent altercations & worries.



very soon.

Labels: feelings validation, pensive thoughts
11:59 pm on
Thursday, March 19, 2009
Breeze through
emptiness
..


emptiness eats you from the inside.



sometimes, you feel so alone even when it's so crowded.


you would suddenly feel that you need someone there with you, at that moment..
it feels like forever, sitting there and feeling so alone.

if you pretend it's all okay, it would hurt.
if you walk away, it would hurt too.

what's your decision?

i choose to do something about it..



but... but what if..?
what if what you do is no remedy for your pain?
a futile struggle.
a long road back to emptiness?

maybe. perhaps not, too.

Labels: feelings validation
9:50 pm on
Monday, January 26, 2009
saving all
2007, 2008, 2009...
i am glad. i am not alone.
=]
i don't want to have nobody to turn to when i lose track of time at 4 in the morning.
Labels: feelings validation
12:55 am on
Friday, January 16, 2009
will it.
take.you,anywhere?

if there's a will, there's a way.

I just read a few blog posts from my friends (well, cause projects and journal submissions back on campus have been giving me

the

headaches), and one post particularly interest me to comment.

I commented:


hahas. another one bites the dust! seems like reality hits you every birthday huh! HAHAS. life's always unfair & personally, i got over that fact-of-life during my younger days...




if there's a will, there's a way. changes are fundamental to catapult oneself forward in life. there's nothing oneself can't accomplish. your greatest barrier is yourself. you write your own life story.




there's nothing much friends can do, unless oneself does something. (maybe, your) wanting it is not strong enough.




HAHAS. sorry, can't keep my opinions to myself when it's all about you. =]



I really hope she understands. =]

Throughout my life, many situations started out on the wrong foot and a lot of complications arose from there.
Having the will to do something about it, really really makes a difference.

I must say though, that actually many of the people whom i know, would SAY that they have the will to do so. But i don't see action. & giving up on themselves is usually their ending point.

It actually puzzles me.

Are you guys just saying it to comfort yourself? Or to create an alternate fantasy so you feel that you have done something in your life when nothing actually changed?
When i was younger, i love fantasies too. But now, you should have the maturity to discern what's for laughs and what's real. Real time waits for no man.

Why procrastinate when you know more of it would result in the detriment of your own?

Planning is not good enough. It never was and never will be. Going on with the plans and executing them with your objectives in mind are what is important.
If you haven't even plan, yes, i am trying to say this: make good use of this opportunity to! Stop wasting precious time that you know you would regret in future!!

As D, and as your true friend,, i am not just someone that would say, "ok. it's up2u", unless you seriously pissed me off with your adamant wanting of all talk and no action.
Reading this, are you giving yourself excuses as to why you're not planning??
Be more receptive about all these comments about yourself. Fighting it does not mean you got over it. It just means you ran away from it and it would come back when the time is ripe. Try giving it a thought.
If you truly is close to me, i would want you to get this in your head!
Wake up call, baby!

Don't give yourself excuses - "i have no time, i am not good in this, i am not good in that,, i won't be able to do a good job".
You know what? Then, you won't!
That will be quite a laughing stock. I really hope for my friends to progress in life together with me. I am not a generous kind soul that would put a pause in my life and wait for you. Life's too short to wait for people - even if it meant friends. It's sadly vicious, but true.

Even if i want to wait for you, I can't.
Things we talk about, things we share, things we know of, would all be different.
It's like people from two separate planets and then,, poof!
Before you know it, we would have nothing in common and we are on different frequencies.
This is what scares me. It really does!
Doesn't this scare you?!

When one day, your life is reduced to a monotonous routine of rites & rituals,, where all the fun awe-aspiring excitement is buried in the ground, i won't be helping you dig them up. That's cause i would be in the jet plane, losing tears for you being unable to sit right next to me.

I am fast moving, yes, just like my mother or maybe,, faster.
I can't wait for you to catch up. It's just not me.
I can't change myself for you, but i would feel very sorry.

Time to unmask yourself, take off your pride and pull off your ego and take a good look at yourself.

(this post is directed at a person close to my heart,, but for the rest of my readers, i hope you get insights from my rhetoric as well)

Will it. (using your will to change your life)
Would you?
if not,, will 'it', take you anywhere?

As much as you think i am talking about you, criticizing, pushing and abusing you through words, actions & all...
It is very much deliberate.
I am talking about myself.

How i am afraid i would lose you,, a close friend to your own complacence.



New Year Countdown, 2009.



with Roy Seet. Tiffany & Auggs too!



more photos!



tres tres chic.


you write your own stories
Labels: feelings validation, pensive thoughts
3:35 pm on
Saturday, January 10, 2009
2009 Resolutions
on being DtherLasse


On 2009, there will be a new addition to Lave Cradle, called petit LIVRE NOIR or "the little black book".


It's a offline diary where i will pen down thoughts & feelings that are very private and personal.
But the trick to this book is... That in every situation, i must come up with a strategy/a path that i must take. This path (like a solution the my own worries/problems), like an ultimatum would be made through considering factors such as my nature, personality, character traits, & even external factors.

In other words, this book is a way of life for myself. & of course, the objective is to understand how DtherLasse really works.

Other than blue-printing the steps of my mind & strategies inside my head, the book is also a place for discomfort. Dark secrets, painful memories are all unleashed upon the yellow pages of this book - covering all areas of my life.

For a peek into my Resolutions for 2009,
go here:
Download from Uploading.com
Download my Resolutions 2009 simply by clicking the above.
Or...
http://uploading.com/files/PPL9FA0Y/2009 Resolutions.pdf.html
By going to this website shown above.

It's New Year's Eve, have you done yours yet?

I am not really a "making resolutions" kinda boy. I mean, c'mon! Look at what i've wrote!
They are all so strategic and not very operational & tactical. But, every step counts, doesn't it?

With the broad picture in mind, I would be likely to move along rather quickly in life.

My favourite part of the resolution is the part where i have to use words to describe myself as a human being. The part on "my lifestyle" and "my nature & how i'm nurtured".

In 2008, an epiphany bestowed me and made me realised that i'm NO PARTY ANIMAL.
Nope, i am not. Yes, i do attend parties, but being a party animal is not my cup of tea. It is fun to be prancing around in the limelight with everyone ogling at you, but hey. That's quite unlike of me huh! HEHES.

A bit bimbo-limbo.



My nature and nurtured is clearly dictated in the pdf, but i have to say - if a single soul can be described through by two lines of words, that is seemingly unrealistic and unnatural, right?




That two lines of words does not represent me, but merely explains how the major parts of me work.



Hmm. Let's go one by one down the resolutions.

Personal:
The way i've portrayed myself is so different to different groups of people. Well, of course, i let my guard down when i'm with people whom i trust. But people whom i trust are not necessarily the ones that understand me! Hahas!
It's like, one minute i am this and the next, i am that. So confusing.
I just hope in this new year, my closer friends can read me easily. That's what really bothers me.
For the rest of society, it is always safer with some masks on - & even so, the masks must be the ones that suit my face!
Knowledge and finances are going to be better managed - i just know it.

Relationships:
Yearps. The best part of life. People!
What more can i say? Let everyone live in bliss.
There are a few friends this year that are scrapped off the list of close friends, and for what, you may ask.
Well, time is ticking away every minute. & why would i want to spend it with someone that can't be true to him/herself? Go view my previous post "Retrospect 2008" a few weeks ago where i look back at the whole year of events with my friends.

Sartorial Style:
Fashion is now part of my life and expressing myself and creating an impression is pure fun!
My knowledge about fashion is still undeniably "not there yet". I mean... Let's talk about this when i can start quoting Oscar de la Renta's innovative designs vis ta vis master-of-structures Yohji Yamamoto's in year 2000 and how different their signature styles are compared to mistress-of-prints Diane von Furstenberg every season.
Fitness-wise... Err.. Did my Napfa Test yesterday,, got A for the easy one, B for the ok one, C for happy one and D for alright one... One E! - for freaking 3 pull-ups where i have to extend my freaking arms again and again - SIAO! & One FAIL! for our beloved 2.4km run! Look, i hit the gym one month ago, and i could only do it in 17 minutes. This time, i clocked 14mins. Great improvement huh! RIGHT RIGHT...

Society:
Career... Hmmm. Since i'm a non-contrarian, it is kinda obvious i'd be sef-employed. Even if i am not, i would be still calling the shots. I know my breed in the workplace - the all-adored and very coerced Anna Wintour kind. Maybe i got it from my mum, now, only smarter and niftier. HAHAS!
Social circles wise. Well, i did get a respond early 2008 from this someone BIG from a relatively FUN & INTERESTING social circle in Sin City. But after a while, he notices that lust doesn't really play a big part in my life and i might have sounded a tad too desperate in need for friendships where people truly understands you. So, yeah... Poof! He went. Right after a few calls and messages on how stupid he is to break up from a relationship i thought was cute.
But hey! They're back together again, these cute hobbits & i wish them all the best. =]
I shouldn't have been relying on him for any hope to get to know more people - like the hot M. Hmmm. reliance reliance...
Just do better being myself.

Hmm. me prefers "natural socialite that walk the aisle of luxe" now, with more focus on myself than themselves.
So much sounding than "the wannabe-self-made-socialite that paves the aisle of luxe he walks". Why why.. He who paves his aisle does not really do it himself anyway. Pulling strings and paying a sum of money. Hmmm. These i can do without.
>.<



D at the Christus Dominus Choir @ OLPS.



Have a blessed New Year, and may 2009 bring bliss in all your lives.




remember to wield your life with perceptibility. Always validate feelings of others, cause that's how humane humans are supposed to be.

Labels: feelings validation, innovations and discoveries, pensive thoughts
12:00 am on
Thursday, January 01, 2009
pity
too late

Pity everything's too late.
My body has a natural repulsion against you..

I don't like it either.

Deal with it like how i deal with mine.

It's a torment.




I hate it when i feel weak.





I love you. But i hate you too.

Labels: feelings validation
9:01 pm on
Friday, December 26, 2008